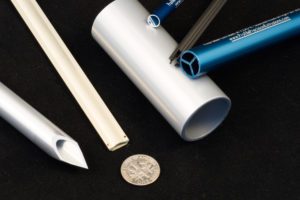 Why is it that many extrusion customers choose to purchase a finished component rather than raw stock extrusion that is 10-20 feet long?
3 reasons are:
Easier to manage vendors
Shorter lead times
Lower overall cost
Easier Vendor Management
The process of producing an extruded aluminum component involves extruding an aluminum shape or tube, cutting the extrusion to length, machining and anodizing. Should the customer choose to buy raw stock and manage the supply chain, they could end up managing 3-4 vendors plus freight companies to move the parts around to each vendor! When one buys a finished component part, the customer needs to manage just one vendor.
Shorter Lead Times
If a customer purchases just the raw stock extrusion, they now have to send it to each vendor for processing and manage any shipping or processing delays. Each vendor will have their own lead time. Let's break it down and assume a best case of 1 week each.
3 vendors x 1 week = 3 weeks
Lead time for raw stock extrusion = 4 weeks
Transit time between vendors = 2 weeks
Total Lead Time = 9 weeks
Buying a component part from one vendor involves a shorter lead time, as that vendor controls the lead times of each required operation, and not transit time is required between vendors.
Lower Overall Cost
Purchasing a finished component lowers the overall cost by reducing scrap, reducing shipping costs, and streamlining your supply chain. Scrap is reduced by buying only the number of pieces you need. Purchasing standard lengths will force you to buy extra to accommodate machining, saw drops, and saw kerf. You'll also pay the freight cost associated with the scrap, drops, and kerf, . Nnot including the freight between vendors.
Finally, the scrap dealer will give you pennies on the dollar compared to the purchase price of the standard lengths. Does that sound like a good deal?
Call us today and find out how we can help you lower your overall costs, increase quality, and save time by allowing us to manage the value chain for you. Profile Precision Extrusions would love to help with your unique challenge!
drops, and saw kerf. You'll also pay the freight cost associated with the scrap, drops, and kerf, not including the freight between vendors.